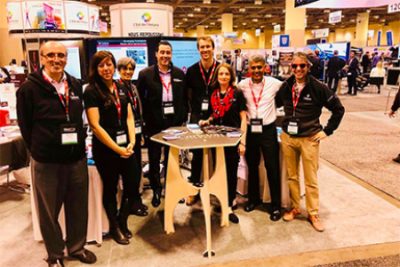 A delegation from Carleton showcased the university's research and innovation expertise and opened the door to potential partnerships at the Ontario Centres of Excellence's annual Discovery gathering in Toronto on April 30 and May 1.
Discovery, Canada's leading innovation-to-commercialization conference, brings together key players from industry, academia, government and the investment community, as well as entrepreneurs and students, to pursue collaboration opportunities. It typically draws more than 3,500 attendees and more than 540 exhibitors who share best practices, new perspectives and research from sectors such as health, manufacturing, digital media and clean tech.
Carleton's group — which included representatives from the Faculty of Engineering and Design, the Faculty of Science and Industry and Partnership Services — was part of an eastern Ontario pavilion alongside faculty and staff from eight other regional organizations and schools, among them Invest Ottawa, Algonquin College, the University of Ottawa and Queen's University.
Carleton Chemistry Prof. Maria DeRosa, Engineering Prof. Mojtaba Ahmadi, Associate Vice-President Sandra Crocker and Jeff Smirle, manager of facilities, partnerships and innovation in the Carleton Innovation Transfer Office, were all at the conference with half a dozen colleagues on behalf of the university.
Psychology Prof. Chris Herdman, director of Carleton's Advanced Cognitive Engineering Lab, was also at Discovery to demonstrate one of his flight simulators and human factor research.
Tuesday, May 1, 2018 in News Releases
Share: Twitter, Facebook