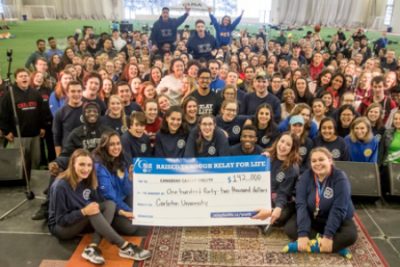 Carleton University students use their bodies — and minds — to support important causes, and the results are impressive.
Starting at 7 p.m. on March 9, teams comprised of 763 volunteers spent 24 hours walking around the track inside the Fieldhouse, raising $142,000 for the Canadian Cancer Society's Relay for Life.
That total is a new record for Carleton's most successful student-run fundraiser and a new record among Canadian post-secondary institutions, which Carleton has led for the past four years.
"It's important to support this cause because cancer knows no bounds," says Carleton student Kathryn Hunt, who co-chairs the fundraiser with fellow student Leah Sweeting. "It knows no race, no sex, no age — it can affect anyone at any time.
"Everyone knows someone who has been affected by cancer. The mission behind the Canadian Cancer Society is to create a world where no Canadian fears cancer, and through Relay, we give hope to those affected by this disease."
The all-night event typically includes many activities to keep students active and awake, including yoga, salsa and Zumba lessons, a live DJ and plenty of games.
Another successful Carleton fundraiser, the annual Shinerama for Cystic Fibrosis Canada, is also in the spotlight.
Cystic Fibrosis Canada has awarded its Best Online Presence Award to Carleton for the strong online strategy that developed by university students in the last year.
Carleton's Shinerama organizers launched a fully integrated online campaign, which helped expand the reach of the fundraiser and raise additional awareness about cystic fibrosis.
Tuesday, March 13, 2018 in News Releases
Share: Twitter, Facebook