By Joseph Mathieu
Photos by Chris Roussakis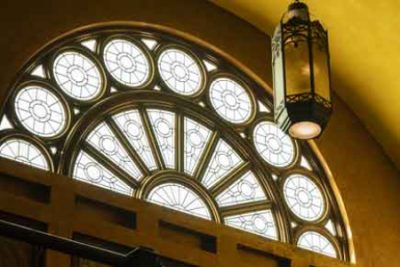 Ottawa buildings lead their own secret lives, each willing to share its history if one knows how to listen.
Thanks to the work of two architectural historians who collaborated on the 2017 guidebook Exploring the Capital: An Architectural Guide to the Ottawa Gatineau Region, several buildings shared their life stories at a recent CU in the City event at Dominion-Chalmers United Church.
Andrew Waldron is a Carleton University adjunct professor in the History and Theory of Architecture program and the heritage conservation manager at a facilities and project management company called BGIS. Peter Coffman has exhibited his architectural photography in galleries across Canada and the United States. He conducts research and teaches in the same program at Carleton.
"Architecture and history are sometimes odd bedfellows," said Waldron. "On one hand, many architects and many engineers see through a lens of the future. On the other hand, historians see through a lens to the past."
In this way, he said, they are able to determine personalities of the buildings.
Carleton's Faculty of Arts and Social Sciences (FASS) hosted the event, Built Ottawa: Our Places, Our Stories at Dominion-Chalmers on May 8, with remarks from FASS Associate Dean (Student Affairs), Catherine Khordoc.
Carleton announced last December that it would enter into negotiations to purchase  Dominion-Chalmers for use as a multi-purpose performance space for Carleton students and faculty, and as a new hub for artists and community groups.
Coffman began his trio of stories with the church, talking not about its neo-Byzantine design or exterior of Nepean stone and olive green Miramichi sandstone, but its family tree.
He identified the church's exquisite and uplifting dome — ideal for the evocative concerts of Chamberfest — as the great-great-grandchild of Istanbul, Turkey's Hagia Sofia, the Eastern Orthodox cathedral built between 532 and 537 AD.
Constructed by a mathematician and a physicist under order of Emperor Justinian, the colossal Hagia Sofia's striking style spread across the Western world. It inspired builders for centuries, and Ottawa sees the influence at Dominion-Chalmers, as well as St. Elijah's Housing on Lyon Street and Christ the Saviour Orthodox Church on Somerset Street West.
Waldron started off his stories with 111 Sussex Drive, the John G. Diefenbaker Building which was once Ottawa City Hall. "It's an overlooked gem," he said. Opened in 1958, its sophisticated look reflected internationalism and the city's tradition. It embraced the tenets of modernism rooted in the European modern movement while retaining limestone for the exterior and a muted grey palette, accented with rich oak.
He also uncovered the storied past of the Jackson Building on the corner of Bank and Slater streets. Now containing government offices, it was once a jewel of New York elegance in downtown Ottawa. Completed in 1921, it was a kind of resort that could host 800 dancers with an organ and a four-storey arcade containing a theatre for pictures and stage productions.
"While you see a brick-clad building with a few shops and secured government entrances, it was once a jazz age tower, topped by the Century Roof ballroom where you could foxtrot or do the Charleston to the sounds of the Russian Orchestra."
Waldron also shone a light on Fifth Avenue Court, a building dear to him and his family that may be destroyed to make way for a condo building.
Similar in theme but in a distinct way, Coffman addressed another controversial change to the cityscape. In response to the proposed addition to the Château Laurier, he read a fairy tale he called Le Château. He likened the historical hotel to a celebrated story that all the city's citizens knew and loved. When a bard from another city was tasked to update and improve on the story, the citizens were aghast that he wanted to add chapters written in Swedish to their beloved French tale. Renderings of the proposed addition flashed behind Coffman as he read his story, illuminating how silly he thought the whole plan to be.
Coffman also touched on the Canadian Bank of Commerce building on Sparks Street. Built in 1922, the building projects an image of permanence, power and wealth, created in the styles of Greece and Rome.
One summer's day, he came across an Indigenous People's Powwow outside the building's front steps.
"That juxtaposition struck me as quite shocking," he said. "One little image seemed to illustrate to me a fundamental cultural collision that is so much at the heart of this country, and one that has caused, frankly, so much pain."
Although the designer built in a message of dominance in the building's massive columns and regal features, its life story only began there. Where it went afterward was up to the people.
"There's actually a far richer, more textured, more profound, although admittedly much more difficult, narrative to come from allowing all the stories from various periods to be heard," said Coffman.
Wednesday, May 9, 2018 in Feature Stories
Share: Twitter, Facebook