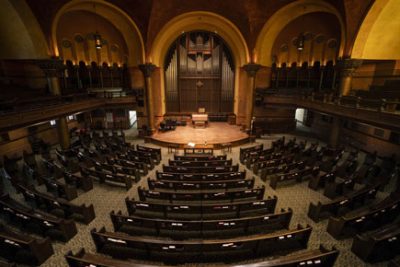 Ottawa will soon have a new cultural and community hub in the heart of the city, thanks to Carleton University's purchase of Dominion-Chalmers United Church, which renews an important link with the Ottawa community that had the bold vision to create Carleton in 1942.
The university's acquisition of the historic church east of O'Connor Street between Lisgar and Cooper — which was recently approved by the United Church of Canada and supported by various donors — will provide a multi-purpose downtown performance space for students and faculty.
Carleton currently has no space on campus that seats more than 400, hindering its ability to host large performances or lectures.
Dominion-Chalmers United Church, which is about 37,000 square feet with a seating capacity of approximately 1,000, will not only provide much-needed space for the university's growing music program and other departments, it will also continue to serve as a community, cultural and artistic space for the broader Ottawa area. The church hosts more than 70 concerts and music festivals every year, and will continue to host religious services for the church's congregation.
"Our purchase of Dominion-Chalmers United Church is perfectly aligned with the university's mission to play a central role in the cultural life of Ottawa, and it's a unique solution that allows the church to maintain its historic presence downtown and a gathering place for its congregation," said Carleton Interim President Alastair Summerlee.
"This beautiful space will not only be an important venue for students and faculty, but will also engage our many collaborators in the artistic, non-profit, government and private-sector communities. We would like to thank the Government of Ontario and our philanthropic partners for their generous support, and look forward to the intertwined evolution of the university, the church and the city."
"For several years now we have been facing a future where we would not be able to keep up this historic building," said Church Council Chair David Hayman. "This is a sale that is good for the future of the congregation. It is also good for Carleton University and for the people of Ottawa.
"Our congregation has a long history of supporting both education and music in this city. We were among the early supporters of the Presbyterian Ladies' College, which later became the Ottawa Ladies' College, which was a predecessor of Carleton University. So, it is a fitting legacy that this building continues to serve the people of Ottawa by promoting education and music for the benefit of all."
A due diligence process completed before Carleton's Board of Governors voted to negotiate a final purchase determined that the heritage building's physical structure is in very good shape.
Limited renovations will be undertaken to ensure that the Romanesque Revival building meets code requirements, and to create high-quality recording spaces and make the facility more attractive as a rental venue for community and arts groups.
Academic programs at the site will be interdisciplinary and primarily focused on music, drama and performance. Carleton's transformation of the church will provide opportunities to expand program options in the Faculty of Arts and Social Sciences, including exhibit space for the Carleton University Art Gallery.
Construction on what was originally called Chalmers Presbyterian Church started in October 1912, and the first services were held in its sanctuary in March 1914.
Chalmers Presbyterian Church became Chalmers United Church in 1925. In 1962, its congregation amalgamated with Dominion United Church, which had been destroyed by a fire, and the current name was adopted.
"It is hard for a religious congregation to let go of a building that has been its home for more than 100 years," says Hayman. "There are a lot of sacred memories in this place. But this was not our first home and it won't be our last. Between Dominion and Chalmers, we have called eight different buildings our home over the past 200 years of worshipping together. The sale of this building marks the end of a significant chapter in our history, but it is not the end for us. We are looking forward to the next chapter in the life of our congregation in the years to come."
The spirit of unity created when two historic congregations came together will endure as the church begins another era as part of Carleton, which has already reached out to the University of Ottawa, Algonquin College and La Cité Collégiale — institutions that it is collaborating with as part of the Ottawa: The Education City pilot initiative — about the possibilities of collaborative programs at the site.
Media Inquiries:
Elizabeth Murphy
Communications Co-ordinator
Carleton University
613-520-2600, ext. 8834
Elizabeth.Murphy@carleton.ca
Thursday, May 24, 2018 in News Releases
Share: Twitter, Facebook