By Joseph Mathieu
Photos by Josh Hotz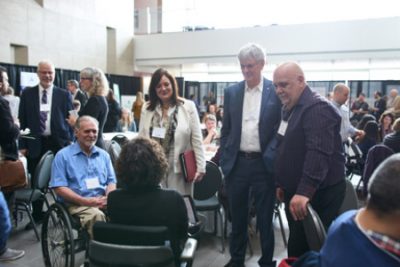 Accessible design benefits everyone, regardless of age or ability.
That was a recurring theme at Enable Ottawa 2018, an all-encompassing accessibility conference and technology exhibition hosted by Carleton University's Research, Education, Accessibility and Design (READ) Initiative, and generously sponsored by the Accessibility Directorate of Ontario. The event brought together more than 200 people — advocates, volunteers, inventors, even a Grade 5 student — to Carleton on April 27.
"It really excites me to see Carleton spearheading this amazing initiative [to] build a city and a country that is the most inclusive and accessible in the world," said Yazmine Laroche, associate deputy minister of the federal Infrastructure and Communities portfolio.
Organized and sponsored in part by the Institution of Engineering and Technology (IET) and Professional Engineers Ontario (PEO), Enable Ottawa 2018 showcased how engineering advances, industrial design and new technologies can overcome both common and complicated challenges for people with varying abilities.
"We have to come up with solutions that don't involve changing people's behaviour," said keynote speaker Geoff Fernie, a University of Toronto professor and researcher. "We have to make changes to the environment."
These changes would help the 3.8 million adult Canadians who live with a disability and the rapidly aging population, but also everyone else.
Some 21,000 Ontarians fall and visit the hospital in an average winter, and fall-related injuries are the most common reason for hospitalization year-round. It's not because of the way people walk or any particular disability, said Fernie. The culprit is poor design – staircases without adequate handrails, steps that are too narrow, shower handles affixed as an afterthought and snowboots that can't stick to an icy curb at the edge of a sidewalk.
The researcher gave a virtual tour of his lab at the Toronto Rehabilitation Institute, where he conducts research focused on safe, independent mobility and successful aging. By using state-of-the-art technologies to simulate challenging environments, he aims to reduce the amount of slips, trips and falls that occur both indoors and out each year.
Enable Ottawa 2018 was developed in co-operation with the Tetra Society of North America, March of Dimes Canada DesignAbility Program and the Neil Squire Society. Representatives from each organization, including Vancouver's Disability Foundation, presented their models and volunteer-based projects in the afternoon. Other sessions included an overview of the City of Ottawa's accessibility design standards, a panel on entrepreneurship, and several series hosted by experts and industry on low-cost accessibility solutions, robotics in rehabilitation, and accessible and inclusive design.
READ Initiative Director Dean Mellway presented various projects that supported students with disabilities while advocating for Carleton graduates who have varying abilities.
"If you live with a disability, you're already overcoming barriers all the time," said Mellway. "You have to be innovative, you have to be creative. There isn't a business out there who can't benefit from someone like this carrying around skills like this in their pocket."
Mellway, a paralympian and social worker who was the Paul Menton Centre's (PMC) first co-ordinator from 1990 to 2000, shed light on the Carleton University Accessible Experiential Learning (CUAEL) project.
"Our students come back and take another degree because they can't get jobs," said Mellway. "The problem is there's a terrible attitude barrier out there. People won't take a chance on someone with a disability, they're afraid to have all these problems."
By helping more than 240 students with disabilities get job placements, CUAEL is actively exporting the university's culture of accessibility into the employment sector. Experiential learning is integral to many of the university's programs and Bjarki Hallgrimsson, director of the School of Industrial Design, showcased several, including the CanUgan Project that provides rugged wheelchairs suitable for the roads of sub-Saharan Africa.
These initiatives and programs, said Assistant Vice-President Adrian Chan, cement Ottawa as the accessibility capital of Canada and Carleton as a catalyst for change.
"When we talk about culture of accessibility, it's really about the attitudes and behaviours of a community," said Chan. He insisted that issues of information communications, access to website and digital technologies, as well as attitudinal and systemic barriers, need to be included in the definition of accessibility.
Last September, Carleton launched the Research and Education in Accessibility, Design, and Innovation (READi) collaborative program with Queen's University and the University of Ottawa to offer accessibility training in engineering and design industries.
Funded by a six-year, $1.65-million grant from the Natural Sciences and Engineering Research Council, READi is the latest example of Carleton's commitment to the field.
"We can't wait for accessibility to happen, we have to make it happen," said Mellway.
Tuesday, May 1, 2018 in Info Brief
Share: Twitter, Facebook