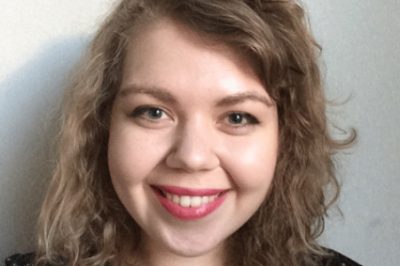 Carleton University's Michelle MacQueen, a master's student in the Music and Culture program, is among the top 25 finalists of the Social Sciences and Humanities Research Council's (SSHRC) Storyteller competition.
MacQueen's entry, Critical Constructions of Canadianness: The Tragically Hip and Representations of Canadian Identity, examines the iconic rock band and Canadian identity. Contrasting with many popular songs about Canada that highlight overwhelmingly positive and celebratory stories, some of The Tragically Hip's songs tell stories that bring attention to important issues. Through their lyrics and music, MacQueen explores The Tragically Hip's critically aware and socially conscious constructions of what it means to be Canadian.
The Storytellers challenge invites post-secondary students from across Canada to showcase their SSHRC-funded projects in under three minutes or 300 words. MacQueen's entry was selected from nearly 200 submissions.
"In communicating their research stories, our talented finalists have masterfully informed us about key issues that impact our society. In doing so, they have effectively demonstrated the value of social sciences and humanities research, offering critical insights into modern social, cultural, economic and wellness issues that Canadians value," said SSHRC President Ted Hewitt. "Congratulations to SSHRC's 25 Finalists!"
As a top 25 finalist, McQueen will receive a cash prize of $3,000. In late May, she will join the other contestants to deliver a live presentation at the 2018 Congress of the Humanities and Social Sciences at the University of Regina – and compete for a top five spot.
To follow the SSHRC Storyteller challenge, please visit the competition's SSHRC's Twitter feed and follow #SSHRCStorytellers.
Media Contact
Steven Reid
Media Relations Officer
Carleton University
613-520-2600, ext. 8718
613-265-6613
Steven_Reid3@Carleton.ca
Follow us on Twitter: www.twitter.com/Cunewsroom
Need an expert? Go to: www.carleton.ca/newsroom/experts
Friday, April 20, 2018 in Feature Stories
Share: Twitter, Facebook