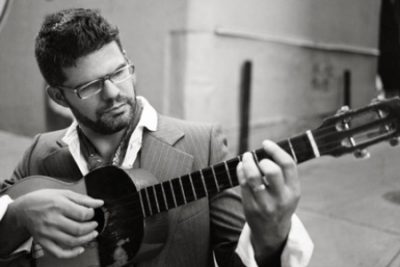 Carleton University graduate Drew Gonsalves, who fronts the Toronto-based band Kobo Town, won the Juno Award for Best World Music Album for his 2017 release Where the Galleon Sank.
Gonsalves, who received a Bachelor of Arts in History at Carleton University in 2001, was born and grew up in Trinidad, emigrating to Canada at age 13 with his Québécois mother.
His award-winning album has a historical theme. He came up with its title when he was on a boat in the Gulf of Paria between Trinidad and Venezuela.
"On the way out, I saw shadows of sunken ships and I thought about how much of our history in the Caribbean is buried under the ocean," Gonsalves said in an interview with Alberta's St. Albert Gazette. "Many of the songs on the album use places or events of historical significance as points of lyrical departure, so I imagined that writing them was somewhat like trying to raise one of these sunken vessels to the surface again."
"At once brooding and joyous, intensely poetic and highly danceable, Gonsalves' songs betray deep roots in Caribbean folk music, while the band delivers them with an indomitable energy that has earned them a considerable following far beyond the niche of world music enthusiasts and calypso fans," says the Juno Awards website.
"This meandering musical life has been quite an adventure and the honour for a recognition like this really belongs to many, many people," Gonsalves wrote on Facebook about his award.
"From the day we embarked on this project we have been blessed to be surrounded by the most wonderful community of family (hi Mom!), friends, fellow artists, supporters and well-wishers.
"You have graced us with your presence and energy at our shows, you have picked us up when we were doubtful and discouraged, you have given us direction when we felt lost, inspired us with your own music, and you have made this road a sublime joy to travel."
Wednesday, April 4, 2018 in Feature Stories
Share: Twitter, Facebook