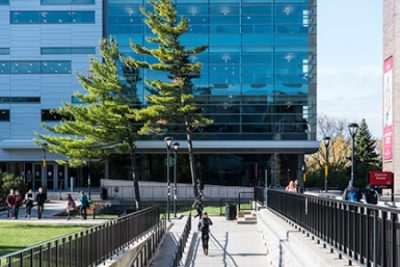 Carleton University is already a national leader in experiential learning and entrepreneurship training, and is arguably the most accessible post-secondary institution in Canada for students with disabilities.
Now its interconnected efforts in these areas are getting an $800,000 boost from the provincial government's Career Ready Fund to support the creation of the Carleton University Accessible Experiential Learning (CUAEL) project, a multi-faceted initiative that will give students with disabilities at Carleton opportunities to gain entrepreneurial and/or work experience while completing their academic studies.
A collaboration between Carleton's Career Services Office and the university's Paul Menton Centre for Students with Disabilities, and overseen by the Research, Education, Accessibility and Design.(READ) Initiative, the CUAEL will allow for summer job opportunities, internships and part-time job opportunities throughout the academic year.
"Ontario's students are highly educated and incredibly talented, but without some work-related experience on their resume, it can be challenging for them to land that first job after school," says Mitzie Hunter, Ontario's Minister of Advanced Education and Skills Development.
"With support from the Career Ready Fund, students and new graduates will gain the meaningful, real-world experience they need for a successful career start, and employers will have access to talent that can make an immediate impact on their success."
The one-year project will provide participating employers in the greater Ottawa region with both incentive and opportunity to offer experiential learning opportunities to undergraduate and graduate students registered with the Paul Menton Centre, where programs are helping Carleton students with disabilities to graduate at a rate on par with the general population.
"We believe that Carleton is well placed to develop a model program in employment preparation, with the objective of moving the employment success rate of students with disabilities towards par with the general population," says Suzanne Blanchard, the university's vice-president (Students and Enrolment).
"The CUAEL project will allow Carleton to build capacity with our employer partners, demonstrating the potential of students with disabilities and creating ongoing relationships."
Ontario's Career Ready Fund is part of the province's Career Kick-Start Strategy, and helps publicly-assisted colleges and universities, employers and other organizations create more experiential learning opportunities for post-secondary students and recent grads.
The fund is expected to help create more than 70,000 new experiential learning opportunities for post-secondary students and new graduates between 2017 and 2019.
"Experiential learning is 'hands on learning' in a real or simulated workplace that helps prepare students for the transition to work," reads the fund's website. "It also helps employers connect students and new graduates with the skills they need to hit the ground running."
Monday, April 30, 2018 in News Releases
Share: Twitter, Facebook