By Ellen Tsaprailis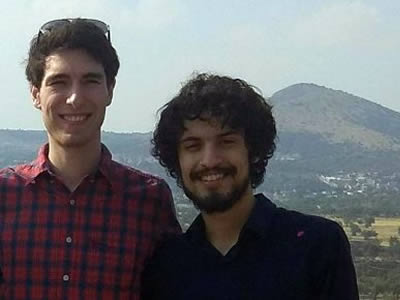 Following their Grand Final win at the North American Universities Debating Championship, Carleton students Matthew Gallagher and Connor Ahluwalia finished in 33rd place at the world championships and were the top Canadian team.
The World Universities Debating Championship (WUDC) is the largest English-speaking debate competition in the world. Mexico City hosted the 2018 competition from Dec. 27, 2017 to Jan. 4, 2018.
For the first time in a decade, Carleton University made it to elimination rounds of the WUDC along with 47 other teams. The winner of these elimination rounds is crowned world champion.
The two had hoped to be among the top 48 teams.
"(That) has been my greatest goal as a debater since I started the activity," says Gallagher. "Connor and I weren't just representing ourselves in Mexico City, but were also representing public universities as well as Canadian debate."
Both members of Carleton University's Debating Society, Ahluwalia is a fourth-year student in the Bachelor of Public Administration and Policy Management (BPAPM) program, while Gallagher is in his first year of a master's in Political Management, having already graduated with his BPAPM.
Other Carleton students and alumni participated in the WUDC. The Debating Society's Vice-President (Internal) Ali Hassan attended as an institutional judge. Debaters for the second team Carleton entered were Harar Hall and Ashley Pinheiro. The vice-president of French debate for Carleton, Khaled Madhoun, attended as a volunteer, and former Carleton debater and past president of the debating society, William Onyeaju, attended as an independent adjudicator.
Gallagher has a lot of confidence in the future of Carleton's Debating Society.
"While I am proud of our accomplishments this year, I look forward to hearing about the next generation of Carleton debaters who I know will go even farther than us,'' he says.
The WUDC, held annually since 1981, is one of the largest annual international student events in the world. Every year, the WUDC takes place in a different country, hosted by a different university and debate society. The tournament gathers students from prestigious universities around the globe, featuring more than 400 teams from about 90 countries. The debates employ the British parliamentary format in which four teams compete against each other on two opposite positions on a given motion, which is announced 15 minutes before every debate.
Monday, January 15, 2018 in Feature Stories
Share: Twitter, Facebook