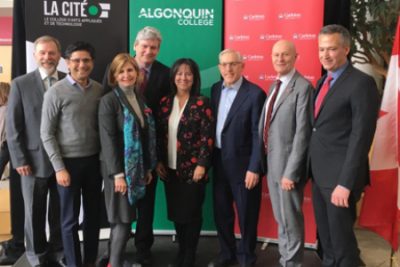 Carleton University's efforts to improve energy efficiency and reduce greenhouse gas pollution on campus are being supported by $7 million from the provincial government as part of Ontario's Greenhouse Gas Campus Retrofit Program.
The funding — part of program that's investing more $214 million in grants and making available up to $300 million in interest-free loans to retrofit college and university facilities in 2017-'18 — fits within Ontario's Climate Change Action Plan and is funded by proceeds from the province's cap on pollution and carbon market.
"Carleton University strongly believes that we are 'Here for Good,' and part of that promise is to think about ways in which we can protect our environment and take action against climate change," President Alastair Summerlee said when the support was announced at Algonquin College on March 9.
"Through partnership with the Government of Ontario, Carleton is pleased to promote and implement sustainable practices on our campus. We look forward to ensuring that the new investment from the government will reduce our emissions, improve energy efficiency and inspire a culture focused on a low-carbon economy."
The funding will help reduce the university's carbon footprint by covering the cost of modernizing lighting, roofing and insulation, as well as other retrofits, upgrades and construction projects.
Ontario's carbon market proceeds are required by law to be invested in programs that help households, businesses and public institutions reduce greenhouse gas pollution.
"Ontario's colleges and universities are some of the best places in the world to study," said Mitzie Hunter, the province's Minister of Advanced Education and Skills Development. "By investing in repairs and retrofits on campuses across the province that will reduce greenhouse gas emissions and improve energy efficiency, we can extend the life of valuable infrastructure and provide students with the best possible learning environment to pursue their goals and achieve their potential."
Friday, March 9, 2018 in News Releases
Share: Twitter, Facebook