By Suzanne Bowness
With the arrival of the new Carleton Faculty and Staff Intranet today, the long-time monthly news forum Carleton Now has come to an end. So we want to celebrate some of the stories we've told since the publication first appeared in April 2003.
The archives tell the tale of a rapidly growing campus, with new parking spaces created for the double cohort of high school graduates, now long gone from Carleton. Then there are the firsts: Carleton's first national Nordic ski championship win, the opening of the now established Educational Development Centre. The first issue also features an expert perspective on procrastination, proving that some topics are always relevant.
Even better sources than the archive are two former editors, Martha Bufton and Maria McClintock, still on campus. McClintock, editor from 2008 until February 2015, is now manager of strategic communications in Finance and Administration. Bufton was editor from 2006 to 2008 before becoming a subject specialist librarian in Reference Services.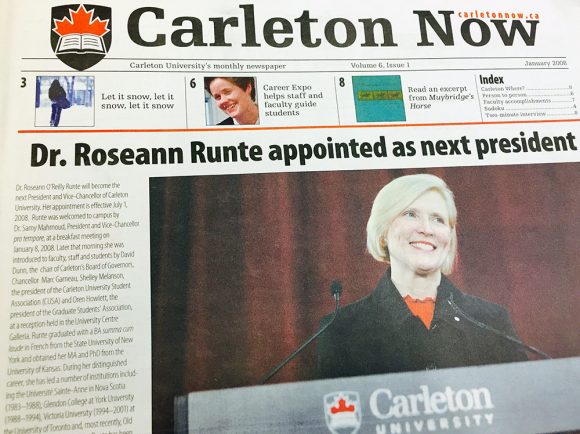 So, what are the best memories from their days as editor? Both former editors admit it isn't one story, but the overall mission to keep the community updated. "I liked getting to meet faculty and staff who were doing amazing things on campus and beyond our campus," says McClintock, who notes that Convocation issues were particularly special.
Carleton Now: Keeping the Community Updated
"A lot of our graduates overcome a lot to reach the day that they can get that piece of paper, so it was really the human stories that were wonderful."
Bufton says she also liked going beyond the usual research and student success stories. "It was really important to engage the whole community. I liked being able to send photographers out and take photos at events that feature staff doing volunteer work or something interesting on campus," she recalls. Both editors worked with a team of freelance writers and photographers.
Each editor also brought her own special touches to Carleton Now. Bufton's goal was to treat the publication like a newspaper, so she looked to mainstream newspapers for inspiration, adding several features during her tenure, including a two-minute interview, a puzzle, a poll, and a comic strip (initially the Piled Higher & Deeper comic, and then an original Carleton strip called Carpe Diem).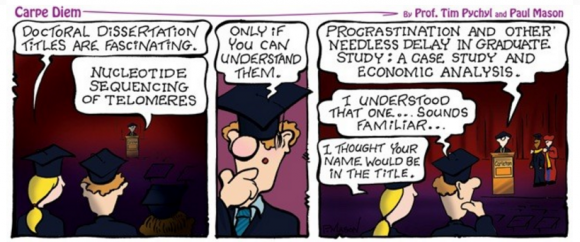 "I really enjoyed sort of the whole process of coming up with stories and also being creative with ways to draw people in," says Bufton. She also experimented with an Oscar predictions feature sourced from film profs and summer/winter book recommendations sourced from Carleton librarians.
Perhaps the biggest shift was going online and dropping the print edition, a change made under McClintock. Responding to reader preferences and a community commitment to reduce paper, the move happened about five years ago and resulted in some new decisions. McClintock decided to allow stories to run slightly longer online and also embraced video, with a monthly video tip from the Department of University Safety and a series called Maria's Minute, in which she would provide an overview of the stories covered in that month's issue.

As for challenges, both editors also agree that finding story ideas was at the top. "Making sure that we tapped into networks to find the stories, I think that was always the challenge," says McClintock. "It wasn't necessarily the stories themselves, but rather finding them and ferreting them out. It's a big place right? Thirty thousand students, faculty and staff—I mean, it's like a small city."
Reader suggestions, tips from her regular meetings with departmental communications officers and word of mouth were the top sources.
Always a colour tabloid format, Carleton Now ran between eight and 12 pages before moving online.
"I think Carleton Now has been a great addition to campus and people seemed to enjoy it. And we look forward to what comes next," says McClintock.