This past weekend, Canadians from every corner of the country converged on Ottawa for the first-ever Power of the Arts National Forum.
Co-hosted by the Michaëlle Jean Foundation and Carleton University's Faculty of Arts and Social Sciences, the Forum mobilized researchers, business leaders, legal experts, policy-makers, youth, health practitioners, artists and others to explore cutting-edge research and social innovation for bettering the lives of underserved Canadians and revitalizing communities through the power of the arts.
Participants explored ways in which grassroots youth organizations, arts communities and academia can work with sectors as varied as health, business and law to discuss issues such as youth crime, mental health, unemployment and social exclusion.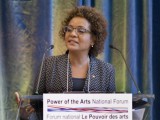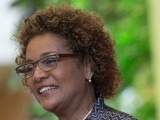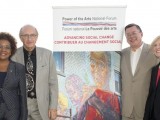 The result: the first steps were taken in creating a national agenda outlining ways in which all sectors of Canadian society can enhance strategies for inclusion, personal and community development and prosperity for all Canadians.
In his closing remarks, John Osborne, Dean of the Faculty of Arts and Social Sciences, synthesized what he hoped would come from the weekend's events.
"Here's my dream: that in 20 years' time, Canada will have a functioning network of community-based and community-engaged arts organizations, fully integrated with researchers in universities and colleges and hospitals, and with the ear of taxpayers and hence governments at all levels, united in their quest to make this country a better place for all its inhabitants through marshalling the power of the arts."
Canada's former Governor General, The Right Honourable Michaëlle Jean, agreed with Osborne that the Power of the Arts forum was an overwhelming success.
"At this forum, there was lots of energy in a celebration of culture," remarked Jean."I'd like to thank all of you for making this such a resounding success. Look at you all, you come from all over the country and represent the rich variety that is Canada. We got together and we strategized. What has been done this weekend shows citizenship and action and is a demonstration of the magic that can happen when we come together for a common goal. I look forward to seeing you next year!"
Director of the National Centre for Dance Therapy and keynote presenter, Christian Sénéchal, said the Forum was an excellent venue to share experiences and stories. "I'm certain we will all go back to our posts with new inspiration and ideas on how we can use the arts as a method of empowerment."
"If we are as powerful as we think we are, what's the problem?" asked Artscape President and CEO Tim Jones. "We are powerful, but often feel powerless. As creators of enormous power, why can't we leverage it better? We are like superheroes who are learning about our powers."
The weekend closed with an unforgettable performance by singer Kellylee Evans, a Carleton graduate.
The Forum featured a town hall, plenary sessions and workshops, as well as a celebration of Canadian achievement in the arts. Workshops focused on the following themes:
Mental and Physical Health
Democratic Participation
Economic Development and Social Enterprise
Cultural Institutions and Community Integration
Public Safety and Access to Justice
Community and Urban Renewal
Diversity and Social Inclusion
New Technologies and Social Change
Voice and Identity
Background:
The National Power of the Arts Forum is the brainchild of Michaëlle Jean Foundation Co-Founder and Co-Chair, Jean-Daniel Lafond. Following his appointment as Senior Scholar at Carleton University's Faculty of Arts and Social Sciences in 2010, Lafond worked with Dean John Osborne to convene a national conference on the power of the arts. It emerged as a natural outcome of Lafond's previous work promoting the arts in Canada, through the Art Matters Forum series organized out of Rideau Hall.
Media Contact:
Chris Cline
Media Relations Co-ordinator
Carleton University
613-520-2600, ext. 1391
613-355-0336
christopher_cline@carleton.ca