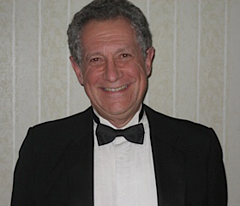 Carleton University is pleased to announce that Ronald I. Cohen will be joining the Faculty of Public Affairs as a Senior Fellow. Cohen is the longtime National Chair of the Canadian Broadcast Standards Council (CBSC).
"I am delighted that Mr. Cohen is joining FPA," said Dean André Plourde. "He brings to Carleton many years of experience in a wide range of areas:  journalism, ethics, law, movie and television production, to name just a few. I have no doubt that he will be a great asset to the intellectual life of the Faculty."
The two-year appointment begins January 1, 2012 and extends until December 2013. Cohen will undertake research projects, give guest lectures, and be available for consultation by faculty members and students alike. He will be fully integrated into the activities of the Faculty of Public Affairs.
Background:
Ronald I. Cohen has been National Chair of the Canadian Broadcast Standards Council (CBSC) since 1993. The CBSC is an independent, non-governmental organization created by the Canadian Association of Broadcasters in 1990 to administer broadcast codes in the areas of broadcast ethics, equitable portrayal, journalistic ethics and violence on television, among others.  A graduate of both Harvard and McGill universities, Mr. Cohen is a lawyer, award-winning film producer and author. He was professor in the Faculty of Law at McGill University and founding Chair of the Academy of Canadian Cinema and Television. A member of the Barreau du Québec, Mr. Cohen has a distinguished record of achievement in public service, including as Senior Counsel for Québec's "Commission d'enquête sur le crime organisé" and a director of the Consumers Association of Canada, Friends of Library and Archives Canada, and the Harvard University Club of Ottawa. A widely published author, Mr. Cohen has written the definitive Bibliography of the Writings of Sir Winston Churchill. He is also the inaugural President of the Sir Winston Churchill Society of Ottawa. His current research projects include a book, to be co-authored with André H. Caron (Université de Montréal), based on Prof. Caron's Les enfants et leurs écrans, on the regulatory issues associated with children, television, and the internet.
About Carleton University:
Located in the nation's capital, Carleton University is a dynamic research and teaching institution with a tradition of leading change. Its internationally recognized faculty, staff and researchers provide more than 25,000 full- and part-time students from every province and more than 100 countries around the world with academic opportunities in more than 65 programs of study, including public affairs, journalism, film studies, engineering, high technology, and international studies. Carleton's creative, interdisciplinary and international approach to research has led to many significant discoveries and creative works in science and technology, business, governance, public policy and the arts. As an innovative institution Carleton is uniquely committed to developing solutions to real-world problems by pushing the boundaries of knowledge and understanding daily.
-30-
For more information:
Caitlin Kealey
Carleton University
(613) 520-2600 Ext 8718
(613) 818-7956
Caitlin_Kealey@carleton.ca
Follow us on Twitter: twitter.com/CUnewsroom